File, CD, USB Flash Drive Encryption SOftware
Master Shredder 2.16 (October 10, 2011). Delete your sensitive files securely!

Free Download Self-Installing MSI Package (mastershredder_setup.msi) (2.5 Mb)
Order licensed version of Master Shredder ($39.95)
Master Shredder is a single click solution for Windows 7/Vista/XP to securely delete files and folders on FAT/NTFS file systems. Files deleted by this software cannot be recovered by any third party software, even by special hardware devices (analyzing remanent magnetization of hard drive's surface).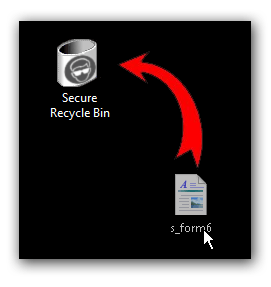 Master Shredder 2 file shredder software.
What is files wiping?
When you move your files to recycle bin, these files can be recovered.
When you delete files using third party software (File Managers, etc) - files can also be recovered by special unerasers.
Even if you format your hard drive - important files can also be recovered - did you know it?

Even after deletion and drive formating there is always a chance to recover your files by analyzing remanent magnetization of hard drive's surface using special devices.

So, if you sold/donated/threw out your computer - your photos/financial documents have chance to be recovered and read.
Master Shredder 2 is the fast and secure solution to delete your files irreversibly. Use Quick Wipe algorithm for not very important files and use slow multi-passes algorithms like Peter Gutmann algorithm for very important files when you need to clean your hard drive...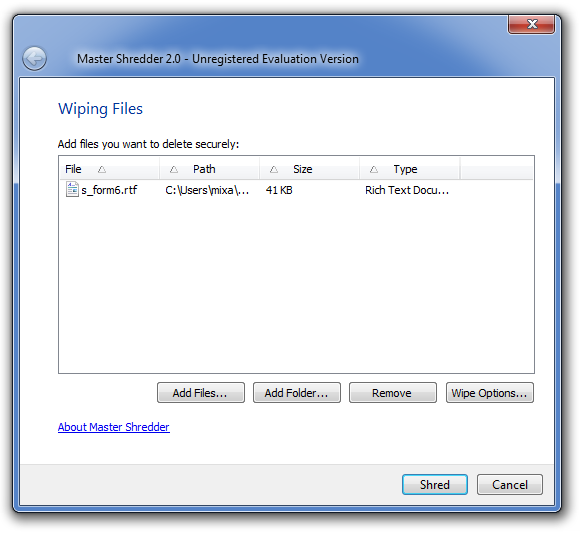 Master Shredder features and abilities
Interface
True single-click solution. Extremely easy to use.


Master Shredder 2 is integrated into the Windows shell. It is possible to shred files from Explorer Context Menu, by drag-n-dropping files to master shredder's recycle bin located on desktop, by calling Send To context menu item
Work with files
Batch Encryption: wipe multiple files in a batch, wipe folders at one time.
Master Shredder shreds every kind of file on every kind of medium, whether floppy disk, removable hard drive, zip drive, tape drive or other

Master Shredder destructs files not only on FAT16 and FAT32 formatted hard drives and other media, but it includes special algorithms for NTFS formatted hard drives, it recognized and destructs NTFS compressed and encrypted files.
Security Level
Matching and exceeding the specifications of the U.S. Department of Defense to stop software and hardware recovery tools.

Master Shredder supports all known wiping algorithms (at this moment it supports 18 wiping algorithms) including: U.S. DoD 5200.28, NATO Data Destruction Standard, U.S. Air Force Standard, U.S. Army Standard, Russian GOST P50739-95 Data Destruction Standard and others
Latest version & Download Link
Master Shredder is "try-before-you-buy" software. Registration gives you the right to use Master Shredder after the 30-day trial period, receive technical support and use features available only for registered users. If you have a question about the registration procedure details, write a message to sales@intercrypto.com


- No nags at startup and in messages
- Free support via email
- Free upgrades to future version for lifetime!